---
The application deadline for this year's College Process Ambassador program is Oct. 10. Please complete this form to apply!
---
CHE appreciates the challenges that high school and first-year college students face! Considering the many deadlines, scholarship applications, FAFSA information, and more, new students in higher education can easily feel overwhelmed.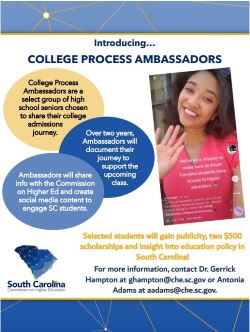 To facilitate a smooth transition, CHE selects College Process Ambassadors to guide others across South Carolina. The students are high school seniors, expecting to graduate by the end of the academic year with postsecondary educational plans.
The Ambassadors highlight college application and success resources to support the upcoming class of high school graduates and college students. They actively assist others via community outreach and they also participate in and promote events related to College Application Month, College Goal SC, and College Decision Month.
They also create and share social media content on SCCanGo platforms, which encourage students, families, and communities to apply and get ready for college.
Ambassadors obtain up to $1,000 in scholarship funds, personalized support and feedback from CHE, and professional training on how to support other students during the college application journey. 
To learn more, contact Dr. Gerrick Hampton, the Associate Director in the Office of Student Affairs, at ghampton@che.sc.gov, or Antonia Adams, College Access Consultant, at aadams@che.sc.gov.
Additional Information:
Cohort of College Process Ambassadors – Class of 2022 (PDF)
College Process Ambassador Program Presentation (PDF)
Introducing: College Process Ambassadors - Letter (PDF)