Ascend 60x30
A strategy to increase attainment in higher education
The South Carolina Commission on Higher Education approved a statewide public agenda for higher education in 2017, identifying a broad set of aspirational goals and objectives for the state's system of higher education. In 2020, CHE convened the South Carolina Higher Education Advisory Committee (HEAC) to further develop recommendations for this statewide public agenda. Based on the work of the HEAC, the CHE established strategic timelines and milestones, identified necessary staff and fiscal resources, and developed processes for engaging stakeholders in pursuit of public agenda objectives.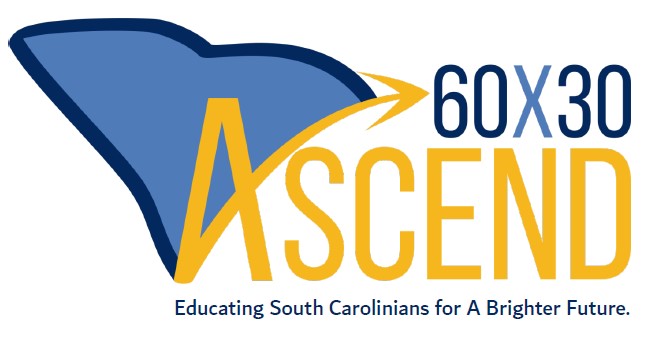 The resulting Public Agenda Implementation Plan, Ascend 60x30, serves a strategic blueprint to guide Commissioners and CHE staff. It remains faithful to the objectives in the 2017 Public Agenda while reflecting the current status of higher education in South Carolina. Supporting CHE workplans for each initiative or project include timelines, milestones, and target metrics to gauge agency progress and to hold staff accountable to achieving the larger goals established in the public agenda.
The Big Goals
Two overarching objectives provide form and structure in the pursuit of the Public Agenda. The first: increase the proportion of South Carolinians with high-quality postsecondary credentials to 60 percent by 2030. South Carolina's education attainment rate was 46.8 percent in 2020, nationally ranking 42nd and below the 51.3 percent national average, according to the Lumina Foundation's annual report on national educational attainment. High-quality credentials provide clear pathways to further education, employment, or both.
The second significant objective, closing socioeconomic educational achievement gaps, is fundamental to increasing educational attainment and is the only way to reach the 60 percent goal by 2030. Closing achievement gaps in higher education has a simple premise: One's life circumstances should not dictate one's chances of success.
Three pan-agency functions guide CHE staff actions in pursuit of the implementation plan: 1) Using data and research to understand the depth and breadth of challenges and to make sound decisions to address them, 2) Clear and persuasive communications, and 3) Advocacy to build and sustain a consensus among constituents in support of the Public Agenda.
The following activities support the CHE in pursuit of specific facets of the implementation plan:
The South Carolina Opportunity Project for Equity (SCOPE): The South Carolina Opportunity Project for Equity (SCOPE) is a multiyear effort to reduce and eliminate achievement gaps across socioeconomic standing, race, ethnicity, and geography. A CHE planning committee will guide the CHE's work in support of SCOPE.
Ensuring Accessibility and Affordability: To reach the 60 percent attainment mark, the CHE collaborates with its partners to ensure all South Carolinians have both access and the means to complete a postsecondary credential through state financial aid appropriations, scholarships, outreach and other tactics.
Reducing Costs: To reduce overall costs in higher education, CHE supports initiatives to reduce textbook costs, pursue systemic cost savings across higher education, emphasize on-time degree completion and increase early college opportunities.
Improving Career- and College-Readiness: Students who are well-prepared for postsecondary education, both academically and emotionally, have high completion rates. CHE collaborates with the State Department of Education to improve career- and college-readiness.
Comprehensive Statewide Transfer and Articulation Agreement: Ensuring earned academic credits transfer as equivalents promotes student success and reduces time to degree. CHE, in collaboration with the state's institutions of higher education, develops a comprehensive statewide transfer and articulation framework and agreement to ensure transferable credit toward degree completion in programs of study at South Carolina institutions. Learn more about our efforts to strengthen our state system of transfer at our Transfer Excellence Knowledge Center. 
Engaging Near Completers: A major component in obtaining the 60 percent attainment goal is to engage with adults who are near the completion of a credential. In South Carolina there are nearly 450,000 people who have some college credits but no credential. The CHE assists near completers in their pursuit of postsecondary credentials by creating and sharing a clearinghouse of best practice strategies for initiatives that support the needs of adult learners.
Strengthening the Workforce: One purpose of postsecondary education is to drive economic stability by strengthening the state's workforce. A key pillar of the CHE's pursuit of the Public Agenda is to expand on existing work and find new ways to meet this purpose. Much of the work required for this goal is outside the direct responsibility and purview of the CHE. The approach will focus on collaboration and coordination with external stakeholders. The work is crucial, however, and the CHE seeks to be engaged fully. Learn more about our Nursing Initiative which oversees the allocation of $10M to stimulate interest in and increase the number of nursing educators in higher education across our state.